Busy times in the Spring sunshine
As people venture out into their gardens, inspired perhaps to have a walk around, coffee in hand and enjoy some spring sunshine, thoughts turn to how to make the best of the garden for the season ahead. So following a flurry of enquiries in February,  March has been the month to get some exciting projects well underway.  Alex and the team have been clearing a large area for a new entrance at one of our latest projects, whilst Lucy has been working on concept designs for a completely new terrace area for this same project. Concept design stage is always one of the more lengthy parts of the design process as we always have plenty of ideas spinning around our heads when we start a project, but the concept stage is when we map out the space and drill down on one, two, maybe three concepts that could work. This is also a time for lots of dialogue and exchanges of ideas between our team and the clients. Plenty of images, rough sketches and chats later and we put together our concept plans drawn to scale. We always enjoy the concept meeting as it is the first moment when our clients can really see their visions on paper and hopefully one or two need ideas and/or elements to consider.
Lucy has also been getting her feet wet, planting up our pond project. With several hundred plants sourced during January and February and arriving onsite last week, it has been a race against the clock to get the plants settled into their new positions, particularly during that wonderfully sunny spell we had and, of course, many of the plants were pond marginals, i.e, need to have their roots in water continuously! It was all hands on deck to make this 'plantathon' happen and with the last few plants going in this week; we have achieved our goal and are so excited to watch this unique water garden project come to life.
Taking advantage of some beautiful Spring sunshine, we made a visit to the beautiful and timeless Cranborne Manor Gardens and what a fascinating time of the year it was to see the garden. Around every corner was the most beautiful vista, carpets of spring bulbs and ancient topiary and how interesting it was to see these incredible archways, avenues and trained fruit trees in their bare, skeleton like forms before they burst into leaf. We take so much inspiration from visiting these special gardens and although, of course, not all of us have a garden of this scale and grandeur (!) there are always so many elements that can be incorporated into any garden at a much smaller scale.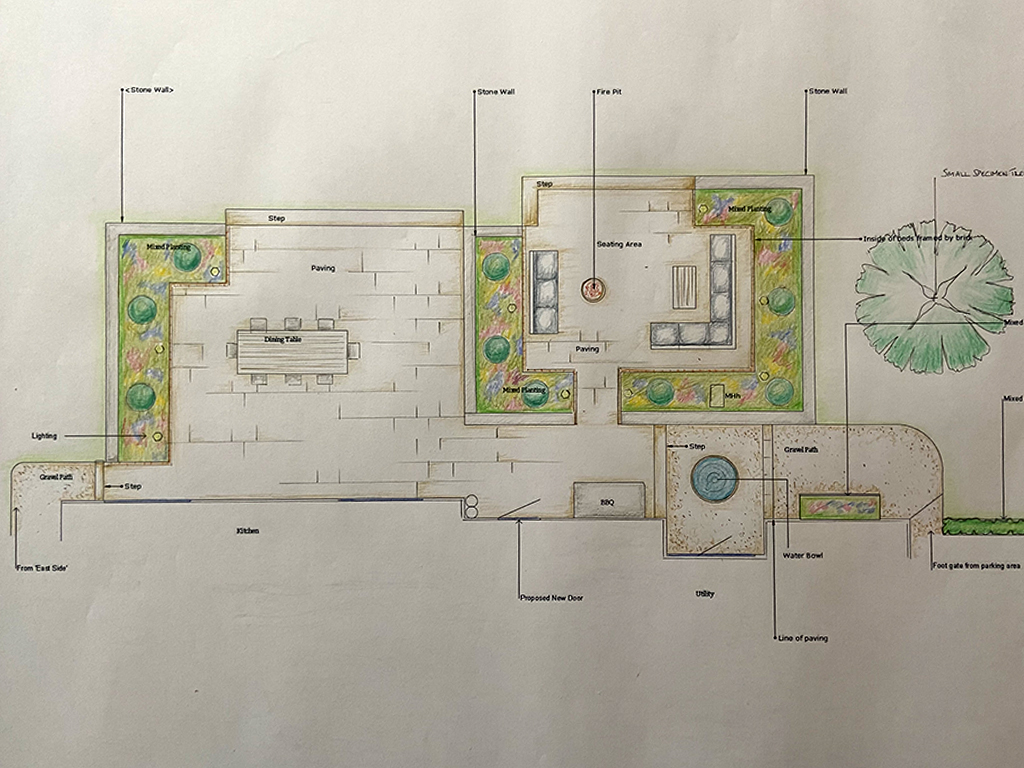 But there's no time to pause, as this week we have been measuring up for another new project and today Lucy is heading off for initial site meetings at two new gardens. It's all go here as we endeavour to meet our clients wishes and have their gardens looking perfect for this Summer and many Summers to come!