As we begin to come out of another winter with only a handful of frosts and a mere flurry of snowflakes here in the South West of the UK, there's an increasing need to integrate plants and trees in our designs that are tolerant of wet conditions over the winter. Whether we are selecting trees, perennials and/or bulbs, areas of waterlogged ground is an issue that we, as designers, have to be very aware of. Not all plants or trees will cope with having their roots in standing water for long periods of time but there are some incredibly beautiful and reliable specimens that will not only cope, they will actually thrive. 
One such tree is the somewhat underrated but highly versatile native Hawthorn - the Crateagus family.  There are many varieties of this resilient tree, varying in size, colour and attributes.  Crataegus laevigata 'Paul's Scarlet' , with it's deep pink almost scarlet blossom in May is a UK native tree that will tolerate poorly drained soil, is reliable with good disease resistance and holds an RHS Award of Garden Merit.  Being relatively small in size, reaching 4-8 metres in height and 4 – 6m in spread, it is an excellent choice for a garden tree and lends itself to a variety of settings. It is small enough to give a pleasing natural look to a modern or urban setting, or equally beautiful in its more native form, perhaps within a wildflower meadow of a rural garden.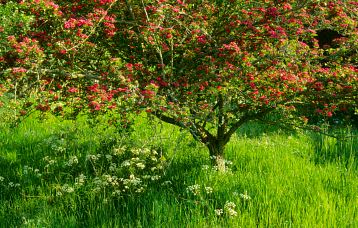 Another Hawthorn variety, Crataegus persimilis 'Prunifolia' will grow in the toughest of positions and has just a few more ornamental qualities than Paul's Scarlet with leaves turning glowing shades of yellow, orange and copper in the Autumn, clusters of small, white flowers in May, followed by colourful crimson berries adorning the branches well into winter, providing an excellent source of food for a variety of wildlife and the dense branches provide a safe nesting place for birds.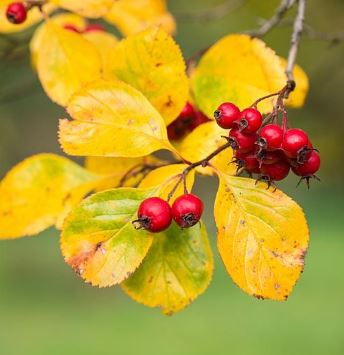 With a strong branch structure, Hawthorns can be clipped into neat shapes for topiary, screening or hedging.  They are a highly versatile tree, suited to almost any situation, as well as being hugely beneficial to wildlife.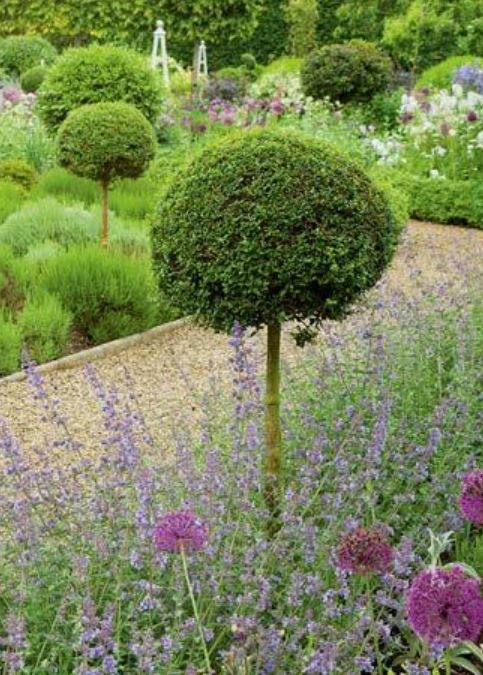 Moving onto our top choice of perennial for a site prone to waterlogging, Persicaria bistorta 'Superba' ticks all the boxes. This is a vigorous, semi evergreen perennial that will cope well with poorly drained soil and can be used effectively in a number of different positions and garden styles. Being low maintenance and quick to spread, it is excellent for ground cover and will thrive in full sun or partial shade .  With a long flowering season, bearing spikes of baby pink flowers from June to September, it is loved by bees and is recommended as an 'RHS Plant for Pollinators'. This is a very versatile perennial that works well in a number of situations and garden styles. It can look fantastic as part of a formal mixed border or in a cottage garden setting, whilst also looking equally at home amongst ornamental grasses in a prairie style planting. Being a very reliable perennial, and having excellent disease and pest resistance, it is no surprise that this attractive plant has been awarded the prestigious Award of Garden Merit.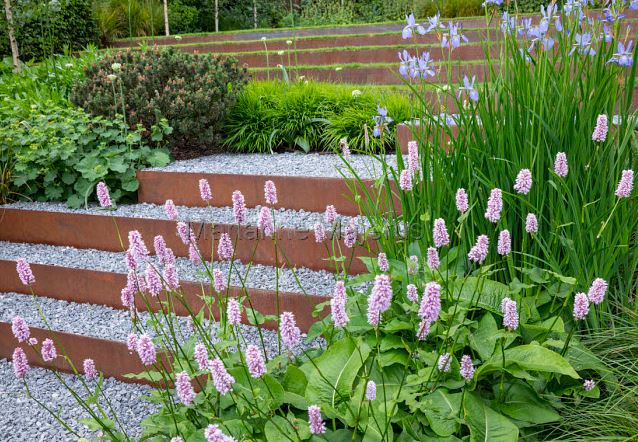 We all love the anticipation of selecting and planting bulbs in the Autumn for a spring display, however, not all bulbs will cope with being submerged in water through the winter months - many would actually just rot away in time. But this doesn't mean that bulbs are not an option, and we always endeavour to include bulbs in all of our planting plans. A bulb that is at it's happiest in damper conditions is the very beautiful Camassia. In April and May,  when their brilliant firework spikes emerge in blue, violet and white, Camassias are a mesmerising sight. They look very at home naturalised in long grass and look just as fabulous planted in drifts in border. They are one of the most tolerant and long-lived bulbs you can grow – they don't mind waterlogging and heavy soil and will gradually multiply giving better and better displays year on year.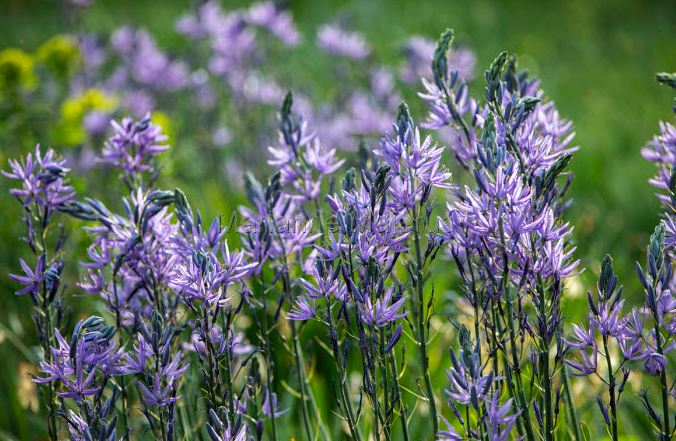 The saying 'right plant, right place' always resonates in our minds throughout any project and with careful analysis of the site and an understanding of the prevailing conditions throughout the year, selecting the plants and trees to be incorporated into the design is a challenge we always relish. And one thing we can guarantee is that no matter what the conditions in your garden, or whatever conditions the UK climate throws at us, we will find plants and trees for your design projects that are reliable performers and give beauty and interest throughout the seasons.