Warming glows for winter nights
Lighting is increasingly something we are asked to factor into our schemes, especially in smaller gardens. These spaces have to work hard to please and many of our clients have extremely busy schedules, being away from the house all day due to work or family commitments, leaving them with just the evening and night-time to relax. Most gardens, no matter how pretty they are, are blanketed in darkness once the sun goes down, however, carefully chosen garden lighting can illuminate outdoor rooms increasing hours of outdoor living in addition to extending the seasons of garden use.
There are two forms of garden lighting we often include in our designs, the first being lighting around the main seating area and the second area we would light is a key planting area.
Effective lighting in a seating area will not only enhance the atmosphere of the area; catching features and shadows that add further interest if suitably placed, but lighting will also encourage prolonged use of the area.  Clients may find they are inclined to use the area more frequently, for longer periods and they may even find the outdoor entertaining season is extended into the autumn and winter by lighting the seating area.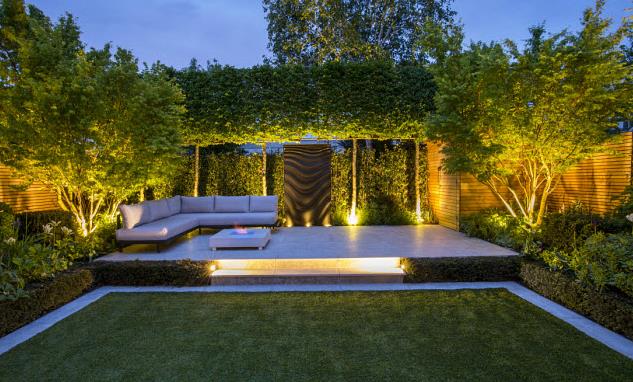 Lighting up the main planting areas, or plants along a pathway is also a great way to enhance the enjoyment of a garden. Whether the lit planting area is viewed from the warmth of the house or as clients walk through the garden after dark, the shapes and textures of plants become even more interesting when subtly lit. Ornamental grasses work particularly well with lights shining through them, catching their movement and delicate seed heads. Likewise, it can be very effective to highlight any topiary within the planting with carefully angled lights. Uplights - lights that are ground mounted, either recessed into the ground or on a moveable spike - are the best for highlighting plants, and the best ones to highlight are those with architectural forms.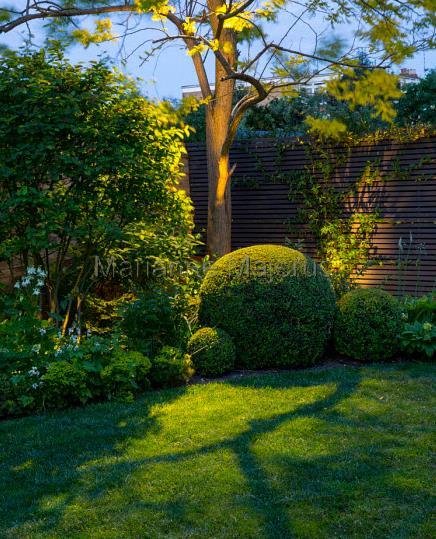 However, when planning lighting locations, it does take experience as mistakes can often be made. With the best intentions to light up a feature such as a tree for example, we have to be careful that the angle of the light is not being cast into and across neighbouring properties and gardens. Similarly, when choosing suitable lights for pathways and steps it is a mistake to select lights that do not have the option to be angled away from walker's eyes or using lights that do not have a dome or half dome across the bulb to redirect light horizontally across the path.
The effect when lighting your garden is not one of a harsh wash of light over the entire scheme, but one where points of interest are highlighted and different plants can be appreciated at different times of year.  In the winter months, it is not the foliage that is highlighted but the bark and stems of certain plants. Cornus stems, for example, look beautiful and dramatic when lit from the ground.
A general 'rule of thumb' with garden lighting is less is more - it is about adding subtle, enticing lighting to various areas and features. Whilst specialist garden lighting can add such a pleasing extra dimension to a design,  not all our clients like  artificial lighting and in many cases we agree – is there  anything more beautiful , simple and cosy than a corner of the garden lit solely by candlelight, perhaps even with the warming glow of a fire pit…?